SUMMER ACTIVITIES
Summer is the time to move in the Auberge du Lac Taureau with a variety of activities for young and old! Put on your swimsuit and dive into our water activities to take full advantage of the hot summer days!
IMPORTANT NOTICE
Summer 2022
Please note that water activities are not available yet. The water temperature must be warm enough to avoid the risk of hypothermia before being able to navigate. Thank you for your understanding!
This is the perfect opportunity to enjoy the huge beaches!
Programming of summer activities
With our animation team!
In order to make your stay even more enjoyable, our animation team offers a summer program that is out of the ordinary. Do you have free time on your schedule? Reserve your place among our activities offered by our animators in the morning, afternoon and evening. Introduction to water sports, torchlight tours, forest survival, and much more!
Water sport base
LIVE THE EXPERIENCE OF THE LAC TAUREAU!
Ready for an adventure on the Taureau Reservoir? Several boats are at your disposal at the Animation Pavilion to discover all the splendours of this immense body of water:
Paddleboard - Canoe - Kayak - Pedal boat
You will also find all the necessary equipment to navigate safely on the lake. Young and old alike will find rental life jackets in their size.
Included in the resort fees. Subject to availability.
Beach
VAMOS A LA PLAYA!
Have fun under the bright, hot sun! Offer yourself the luxury of relaxing on the beach and taking a refreshing dip in the magnificent Taureau Reservoir. This reservoir, with its 95 square-kilometre surface area, is among the largest. Imagine... 31.7 kilometres of beach to discover and enjoy!
On site, a volleyball net is at your disposal at all times for a friendly game with family or friends.
Palapas - Deckchairs - Towels in your room
This is the perfect opportunity to build the biggest sand castle on the beach! Get your shovels and show us your creations!
Cruise
ALL ABOARD!
NEW! Sail on the waters of Lac Taureau with our new fly boat for a trip to Île du Village!
| | |
| --- | --- |
| Price per adult | 55$ |
| Price per kid | 25$ |
Reservation required. Duration: 3h30.
Motorized water activities
DISCOVER OUR MAJESTIC TAUREAU LAKE!
As one of the largest bodies of water near Montreal, Lac Taureau is overflowing with things to discover. Through its 95km2 of water, it hides 45 islands and many sandy beaches. You can explore it on your own with the boat of your choice:
| | 1h | 2h | 1/2 day (3h) | 1 full day (6h) |
| --- | --- | --- | --- | --- |
| WATERCRAFT | - | 289$ | 339$ | 489$ |
| PONTOON | - | - | 349$ | 499$ |
| RAWBOAT | 63$ | 74$ | 103$ | 154.50$ |
Reserve your boat in advance to be sure to have the desired availability. Please note that you will be asked to freeze a deposit on your credit card.
For the watercraft and the pontoon, departures are at 9:30am & 2pm for short term rentals (2h or 3h). The departure for a full day rental is at 10am. Rates include the first tank of gas only. For the rowboat, departure times are variable.
ATV or Side by Side
MORE THAN 500 KILOMETRES OF TRAILS AWAIT YOU!
With friends or family, come and have fun exploring our wooded paths! Discover the forest that separates the Auberge de Saint-Michel-des-Saints and borders Lac Taureau by driving at your own speed on one of our all-terrain vehicles.
| | 1/2 day (3h) | 1 full day (7h30) |
| --- | --- | --- |
| ATV / QUAD | 229$ (100 km) | 299$ (200 km) |
| SIDE BY SIDE 2 PLACES | 279$ (100 km) | 369$ (200 km) |
| SIDE BY SIDE 4 PLACES | 339$ (100 km) | 469$ (200 km) |
| SIDE BY SIDE 6 PLACES | 359$ (100 km) | 489$ (200 km) |
A supplement of $0.75 per additional kilometer will be charged. Please note that you will be asked to freeze a deposit on your credit card.
Departures at 9:00 am or 1:30 pm.
Fatbike & Electric Fatbike
VISIT THE TRAILS ON 2 WHEELS
The vast land bordering Lac Taureau is crisscrossed with numerous trails to be discovered by the means of your choice. The 23 kilometres of adventure and fun in the undergrowth await you!
Fatbike
| | |
| --- | --- |
| Price per adult | 27$ |
| Price per kid | 13.50$ |
Duration of 60 minutes. Three different sizes of fatbike for children 6 years and older
Fatbike électrique
Duration of 60 minutes. Not available in children's sizes.
Mountain biking
Ride through the trails of our immense forest
Helmet and gloves on, you are ready for an energizing and exhilarating outdoor hike. Discovering Quebec's enchanting forests while engaging in physical activity is priceless!
| | |
| --- | --- |
| Price per adult | 22$ |
| Price per kid | 11$ |
Price includes a bike, subject to availability, and a helmet. Children under 12 years old must be accompanied by an adult.
Fishing activities
Relaxing, exciting, accessible to all!
Pond fishing
Enjoy a moment of calm as you tempt the trout in the pond located just in front of the Inn. For the ultimate in relaxation, spend some time on the shores of this little lake stocked with fish... it's sure to be a delight, and to provide hours of fish stories and tall tales for you to tell when you return from your trip!
| | |
| --- | --- |
| Price per person | 32$ |
| Price per additional catch | 6,30$ |
| Price per additional can of worms | 6,30$ |
Price per person includes 2 fishing rods, bait, 5 catches and fish cleaning. No fishing license required.
Archery
PRECISION AND CONCENTRATION!
Come test your Robin Hood skills by participating in the archery activity with an experienced guide. You can try this sport of precision and concentration by trying to shoot your arrows as close as possible to the centre of the target. Challenge your friends or family, you might be surprised at your arrow-shooting skills!
| | |
| --- | --- |
| Price per adult | 22$ |
| Price per kid | 11$ |
Minimum of 4 people. Duration of 1-1h30.
Seaplane
Lake Taureau from the air!
Come and admire the breathtaking view and landscapes of Lac Taureau and the surrounding area by booking a seaplane flight. A breathtaking experience, for memories that will last a lifetime!
| | 15 min | 20 min | 1h |
| --- | --- | --- | --- |
| SEAPLANE | To come | To come | To come |
Capacity of 1 to 3 persons, up to 460 lbs per flight.
Fireplaces
For a good time!
What better way to end a day than with a fire! Rent one of our new outdoor fireplaces between 5pm and 11pm.
| | |
| --- | --- |
| Price per fireplace | 35$ |
| Price per extra bag of wood | 10$ |
The price includes a bag of wood, matches and starters.
Tennis
WE PROVIDE ALL THE NECESSARY EQUIPMENT!
Whether you are Roger Federer or Rafael Nadal's style, the important thing is to have fun playing tennis on the Inn's courts. Two courts are available to hotel guests during their stay. Located on high ground, the courts can be reached within a few minutes' walk.
The view of the Lanaudière region is splendid and is likely to distract players: you can admire the majestic Taureau Reservoir and the surrounding area.
Golf
PREPARE YOUR TEES!
Everyone out on the links for a pleasurable round of golf in a beautiful bucolic setting-take advantage of your time at the inn to enjoy your favourite summertime activity. The Saint-Michel-des-Saints Golf Club is just about 12 kilometres from the inn. The 18-hole, par 72 course, designed by the firm of John Watson Golf Design, offers a number of interesting challenges, considering its narrow fairways and short yardage. You'll need to use your skills to perform well on this Lanaudière region golf course.
Address: 220 Chemin du Mont-Trinité, Saint-Michel-des-Saints, QC J0K 3B0
Ask about our package with the Saint-Michel-des-Saints Golf Club.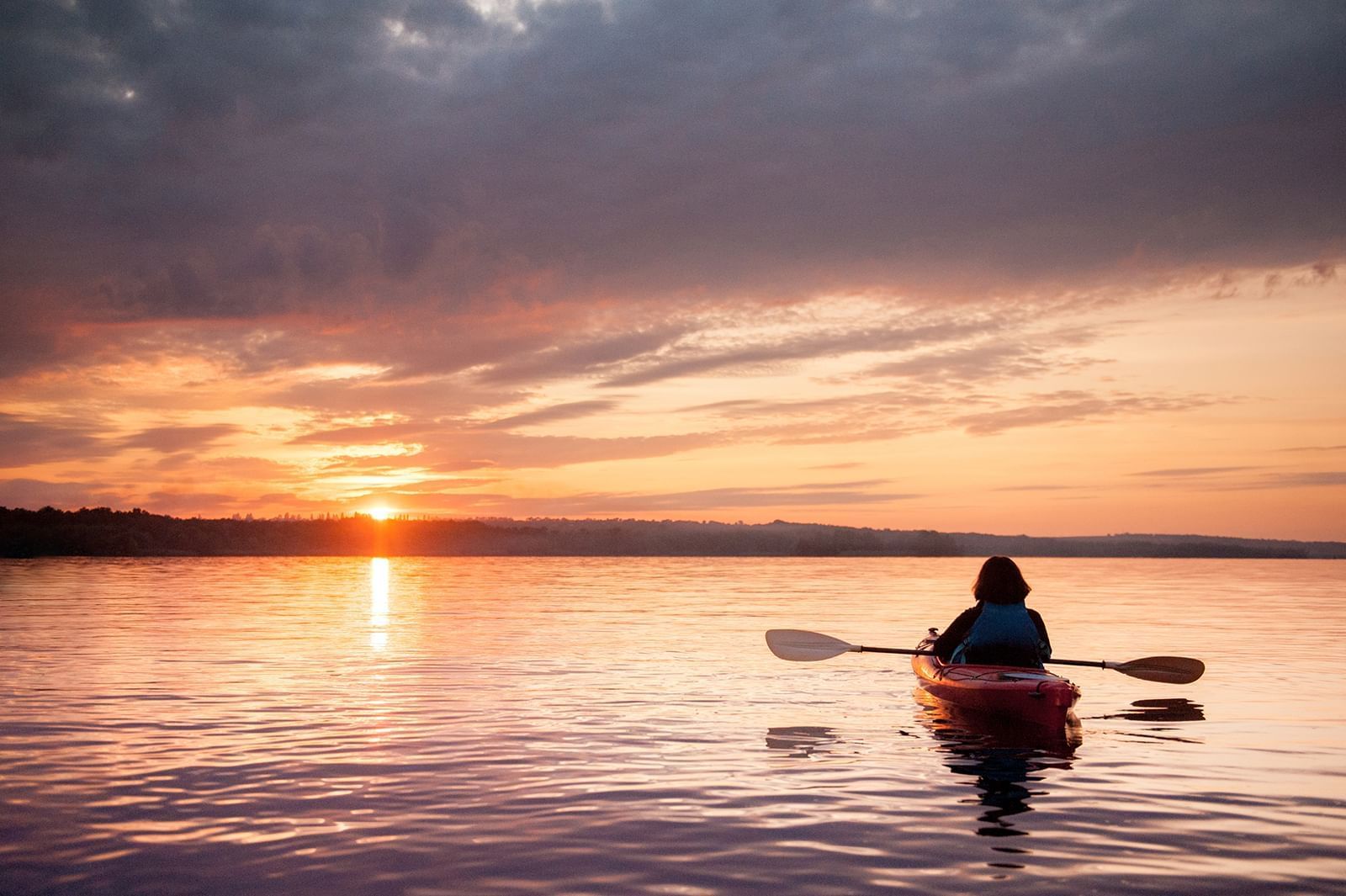 GENERAL CONDITIONS FOR BOOKING ACTIVITIES:
1. The reservation of activities must be made by the activity booking center exclusively.
2. A 50% deposit is required upon booking.
3. Cancellation Policy:
No charge until 48h before booking the activity.
Between 24h and 48h, the deposit of 50% will be retained.
Less than 24 hours before the booking, all expenses related to the activity will be required.
4. Cancellation of an activity may be subject to these other conditions as well:
Full refund of the amounts collected for the activity when the weather does not allow you to practice the activity or endangers the safety of the participants.
Full refund of the amounts collected for the activity when the Auberge du Lac Taureau is unable to provide the service.
The participant agrees to apply the cancellation policy if an illness or injury prevents him or her from practicing the activity.
The participant agrees to apply the cancellation policy if he does not show up for the activity.